Michael Cry was born in Oceanside, California. He was the last of five children born to a single mother. He began playing guitar at 13, under the urging of his life long friend Geo McLellan. After attending his first concert in 1994 (Primus) he decided to switch to bass. During the summer of 1994 he worked various jobs including selling newspaper subscriptions in order to buy his first bass. Upon discovering bass he found vast amounts of new inspiration, and discovered that bassists were in demand. At 16 he began playing with various groups as a fill in player, and recording bassist. Also during that year he began playing with a group known for sudden surprise performances known as Life and the Lost Generation – an avant garde -rock-experiment that spilled over and out of a turbulent group of teenagers.
"I developed half of my style during Life and Lost Generation, and that's kind of where a lot of the voice comes from. Everyone stays young, and angsty somewhere inside- and I think that's healthy for an artist. When you're young, you have all of these ideas and dreams, and you don't want anyone to come and tell you there might be something you have to leave behind."
At 19 he played with FFS, Wade Youman, and Scott Russo of Unwritten Law (separately) all the while recording bass tracks for a large number of producers, and artists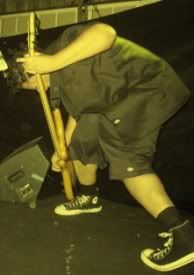 forgotten or unnamed. Then at 22 – the San Diego local heroes, Brothers From Another Planet. Brothers From Another Planet was an explosive and ethnic-rock-groove-powerhouse that coined the term "Alternative Soul". Regional tours garnered a good amount of support from fans and other touring acts such as The Abuse (r.i.p Paulette), Kings X, Living Colour, Deftones, and System Of A Down, but the strain of touring, performing, and substances became too much for one of the members, so Michael made the difficult decision to leave and find a group where he could hone song writing skills, and find new collaborative inspiration.
"Dru (Brothers From Another Planet guitarist) was way more than supportive when I told him I was looking for a new band, and I'll always love the guys for understanding. The music wants to keep coming and I don't think I'll ever have the desire to stop it."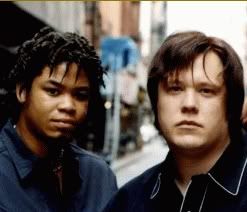 A week later Patrick McGuire called Michael and asked him if he wanted to meet up with Jon Crosby. Soon after that in February of 2004, Michael Cry and Jon Crosby met, and after a discussion over a bottle of Old Grandad, his position as the bassist of VAST began.
Around 2007 Michael began write music for a project called The Cry, and found that many projects held that name and changed it to Michael Cry. In 2008 Tim Price played lead guitar on the recording of the song Prideful. In 2014 Michael played bass on the EP "11:47" with "13 to Midnight," a project fronted by Patrick McGuire.

In the form of performance, production, or writing for these VAST related projects and records:
Live at CBGB's(2006)
April (2007)
Generica Vol. V(2008)
Me and You(2009)
LIVEINNYC(2009,2011)
Jon Crosby and the Resonator Band
Bang Band Sixxx